The Twingo I was a very successful car for Renault, offering a popular combination of usefulness, affordability, and above all, character, which ensured it enjoyed a long and successful production run. Indeed with almost 2.5 million made in Europe over a 14 year period, alongside additional sales and production in South America, they are still a common cheerful sight on many of the world's roads.
Not Australia's though. If the Twingo's diminutive size, small engine and seemingly city-centric design meant it was an unlikely candidate for Australian market success, its left hand drive only layout ensured it would be a definite non-starter Down Under. But none of this was able to deter one intrepid Twingo from making the journey.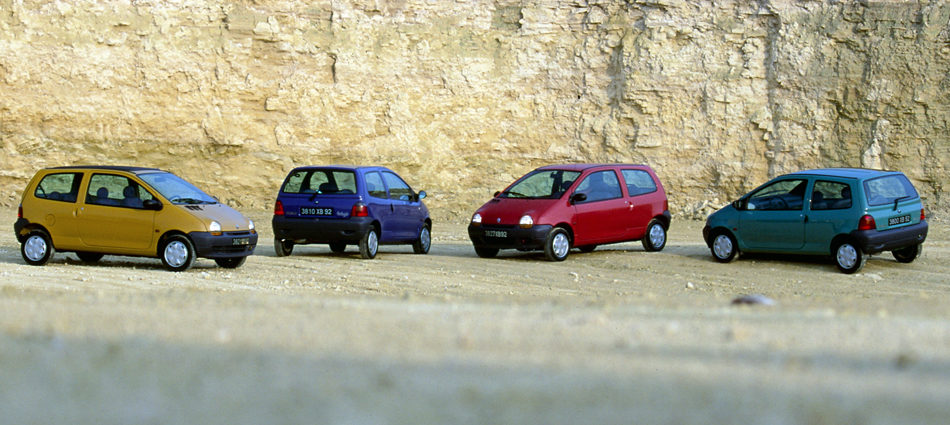 Characterful Twingo was a sales hit
In June 1994, French journalist Jean Dulon and a two person film crew arrived at Sydney airport with a Coral Red Twingo and an ambitious plan – to tour some of the most remote parts of Australia. The adventure would see the little car tackle around 25,000kms of driving over a broad variety of terrain.  Minimal modifications were made to the Twingo in preparation for the adventure – more appropriate tyres, a sump guard and a front bull bar were fitted but otherwise, the 3.43m long front wheel drive hatch with a 1.2 litre engine and sub-800kg weight would attempt the journey as it left the factory.
The adventure would start and end in Sydney but in between would cover nearly every corner of mainland Australia – starting by heading South to Melbourne then Adelaide before winding inland to Oodnadatta and passing Uluru. It would then head back towards the sea via Kalgoorlie and follow the west coast to Broome. After reaching Darwin, the Twingo would return inland via Mount Isa, before finding the sea once again near Townsville and heading north to Cape York, the Northernmost point of Australia. From here it would turn around and return to Sydney.
It was an epic journey in harsh conditions – from long stretches of dusty dirt roads to water crossings, the traffic of major cities to rainforest tracks in Far North Queensland, the trip saw the Twingo tested in almost every driving scenario Australia could offer. Along the way, Dulon and his crew made stops to film and learn about the country, meeting a diverse range of people whose interests encompassed everything from nature parks to vineyards, mines, cattle stations and country football teams. Some car clubs were also visited, and the Twingo was demonstrated to many curious (and often surprised) locals in places where even a modern SUV wouldn't usually be considered rugged enough.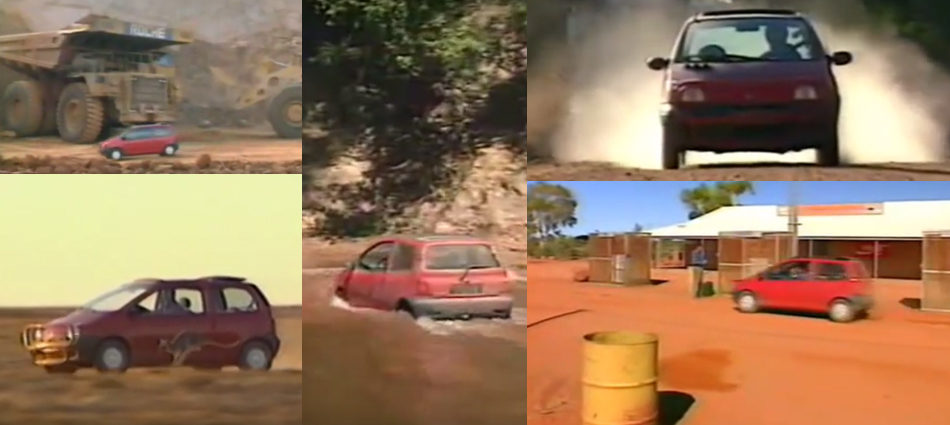 Twingo conquered some of the most difficult terrain Australia could throw at it (collage of screen captures from the VHS video Twingo: Au Pays des Kangourous, Capucine Films, 1995)
Jean Dulon and his Twingo defied and shocked their doubters though, and in September 1994 the little car and its crew returned to Sydney, having covered 25,000kms with no dramatic issues whatsoever. To this day, this remains a very impressive feat for a car of the Renault's layout and size.
To commemorate the successful completion of the adventure, Renault commissioned John Moriarty of the Balarinji Design Studio, famous for its decoration of numerous Qantas passenger jets over the years, to develop a paint scheme for the car, and the result was a design titled 'Twingo Dreaming'.  Using a combination of traditional and modern painting techniques, the work described the journey of spiritual ancestors through the Australian landscape. Renowned airbrush artist Frank Lee was given the job of transferring it to the Renault's bodywork.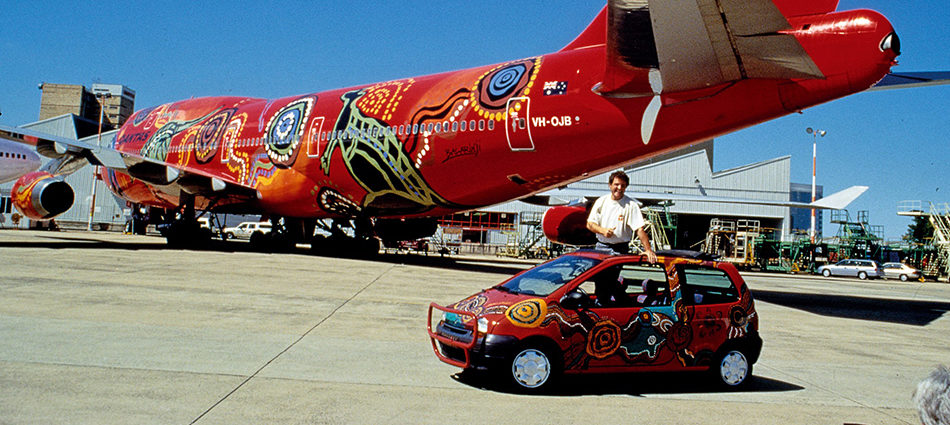 Jean Dulon with the Twingo and Qantas plane, both decorated with designs by the Balarinji Design Studio.
Once back in France, the Twingo made some media appearances and a documentary video was released, Twingo – Au Pays des Kangourous, which showcased the journey. It was a fitting tribute to a remarkable little car's unlikely adventure. Jean Dulon still has the Twingo, which he uses regularly and still wears its original paint. He's now travelled over 300,000kms in it. .
by Andrew Marshall
The video Twingo – Au Pays des Kangourous has been made available online by the Generation Twingo Fanclub and can be seen here.

Thanks to Jean Dulon for the correction