We were supposed to go shoe shopping but since we were in Milano, the spiritual home of Alfa Romeo, I thought it would be interesting to visit one of the local concessionari to check out the updated range of Giuliettas and have a closer look at the 4C, as well as browsing all the cool merchandise they might have that we can't get in Australia.
Imagine my disappointment then when after having waited 90 minutes for the dealer to reopen after lunch we climbed to the Alfa Romeo level of the three storey multi franchise dealership, to find only two Mitos and three Giuliettas, only one of which was the recently updated model. There was no 4C, and the merchandise range was slim, and mainly focused around the 156 and GTA ranges, discontinued 7 years ago. There were posters advertising the 147 GTA, launched over 10 years ago, and explaining the benefits of the mechanical Q2 differential, which Alfa stopped fitting to production cars when the GT stopped being made. Nobody spoke to us, indeed there was only one person on the whole level (which also handled Lancia and Abarth alongside Alfa Romeo), and he was on the phone. There were no other customers.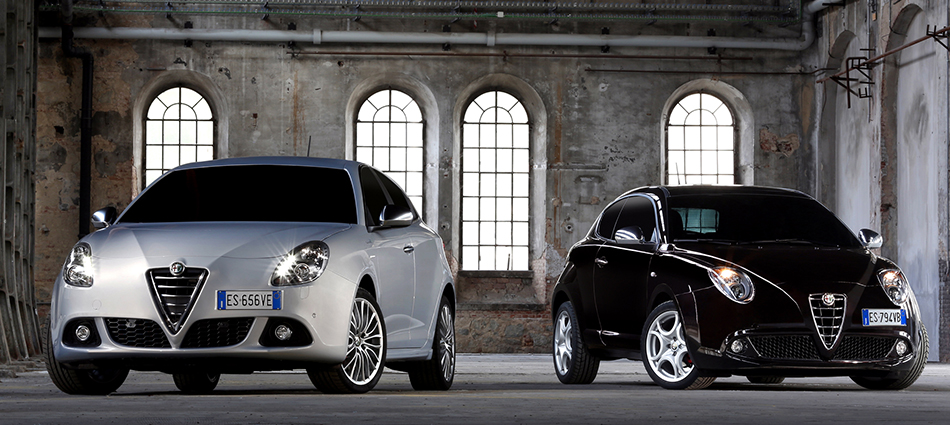 Current range is disappointing
How could we, in the city from which Alfa's badge borrows the Bisicone, only 15 minutes from the Alfa Romeo site at Arese and less from Alfa's old plant at Portello, find ourselves in such a disappointing, barren place that should be celebrating the marque. It felt like the showroom had closed 5 years ago and they had forgotten to remove the last bit of stock.
A bit dejected that the brand seemed so dead in the city, we made our way to town. I'd seen a sign advertising a shop which sold scale models, and of course I was keen to check it out. After quite a long walk, we finally arrived and it was nice to turn up and see an Alfa 166 parked outside.
The shop was overwhelming. There were model cars everywhere, crammed into every space available. Yet although almost every brand must have been represented somehow, I couldn't help notice the number of Alfa Romeos. I overheard the other customers in the store asking for 166 models. The car parked outside was his. I mentioned I too had a 166 in Australia. I showed everyone a photo. They were quite impressed – Australian Alfisti must be thin on the ground in Milano. We had our photo taken for the Tiny Cars business website and Facebook page. I explained my car history, my passion, the story of my 155, and how sad it was that so far Alfa's presence in Milano had seemed so unexpectedly small. Enrico, the shopkeeper, blamed Marchionne, describing how the Mito is not a real Alfa, how it and the Giulietta are merely badge engineering projects by Fiat, and while the brand is almost dead, the 4C is the one glimmer of hope right now for the Alfisti.
"I have plenty of friends with Alfas", the shopkeeper, who has a Series 3 105 Spider and 1300 GT Junior himself, tells us. "But they are usually older ones – I have one friend with 35". Soon, Giancarlo arrives. He introduces us in Italian – I understood enough to hear him say these are Alfisti from Australia.
Giancarlo seemed impressed. He says it's easy to be an Alfista in Italy because there are so many cars, and parts are so easy to come by. In Australia it must be 20 times as hard. We talk for a bit, about what Alfas we have access to in Australia and how strong the community is despite how far away we are. Eventually, he invites us to see his Alfas. He's on a scooter at the moment though, so he'll have to go and get his every day car to drive us to where he keeps them. We say that would be amazing, and as Giancarlo goes home to swap his moped for his car, I pay for a scale model of a 4C.
While Giancarlo's daily drive isn't an Alfa, it's still quintessentially Italian – a turquoise Fiat Panda from the 1980s. You can't have a nice car in Milano, Giancarlo explains, it will just get bumped and scratched. We climb in and he makes light work of the chaotic Milanese streets, and when we arrive at our destination there are no parking spaces left on the street so he parks the Panda on the footpath.
We get out of the car and are lead down a driveway to a garage door, with an engine block under a tarp, some wheels and a broken police car light bar next to it. Giancarlo opens the door and inside we find treasure and I have a minor crisis.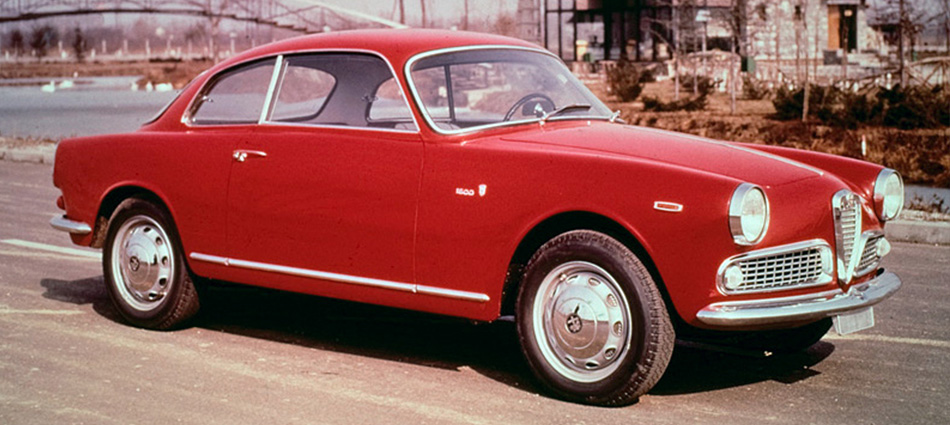 Giulia 1600 Sprint
It's crammed with Alfa Romeos. A Giulia 1600 Sprint – a rare car with the 105's new engine but the bodywork of its predecessor the Giulietta, a 1300 Junior, and a stunning silver Montreal sit before us. There's a 2600 Berlina, a brand new Arna, and ex-Carabinieri Giulia Ti, 75 and 155s still complete with radios, lights and even some new books for officers to write fines in. There's amazing memorabilia too – at least one model of what must be just about every Alfa Romeo ever. Signs, Alfa Romeo bumper cars from a fairground ride, pedal cars, photos of the old factory at Portello, Giancarlo shows us a weathered looking tin pedal car, then points to a black and white photo on the wall. "This is my father in this pedal car" he says. The Alfa Romeo virus, as he calls it, has run in this family for some time.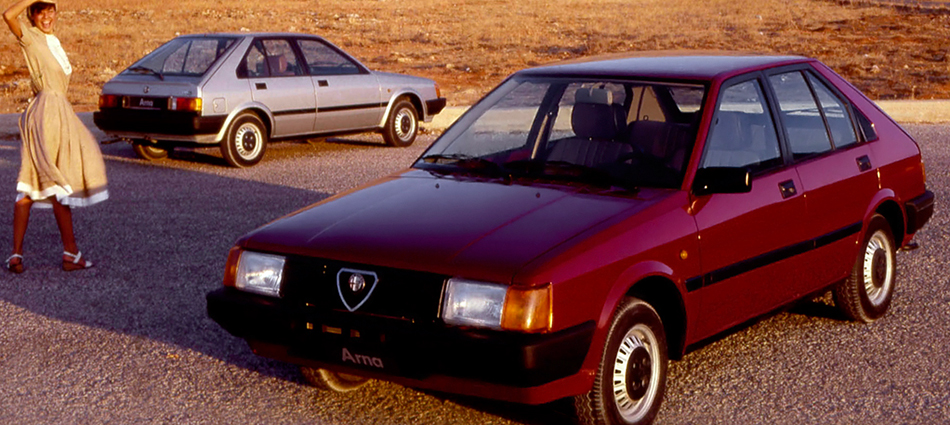 Arna is uncommon for all the wrong reasons
There are other incredible artefacts too. When Portello closed, lots of things were simply discarded, and Giancarlo collected all sorts of memorabilia that was destined for the bin, including prototype 155 bodywork and a master mould for the Alfetta GT's nose cone. The space is overwhelmingly full. He shows me sketches that Marcello Gandini drew for the Montreal that feature a version with a trunk rather than the fastback that eventually made production. I'm in awe. Then, Giancarlo asks:
"Do you want to see more?"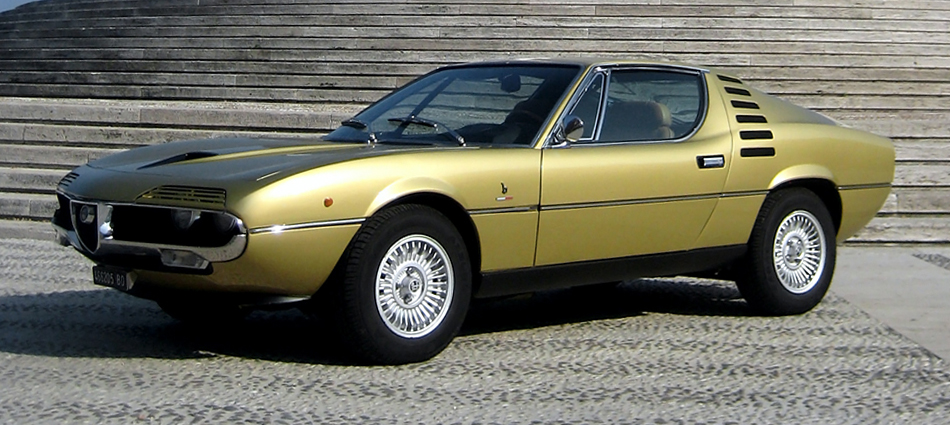 Montreal
Of course. He leads us downstairs. There's an Alfasud Giardinera in a great orange colour ("this is the original paint"), a FIAT military 4WD well as masses of parts. Doors, wheels, trims, bumpers line the walls.
Giancarlo takes us back upstairs and we look at the amazing collection of model cars, before asking us once again "do you want to seem more?" Of course we do! But how much more could there be?
He leads us to a different building into the basement, and opens a door. There's indeed more. A 2600 Sprint, a 1900M 'Matta' off-roader and an immaculate 33 16v Sportwagon sit before us.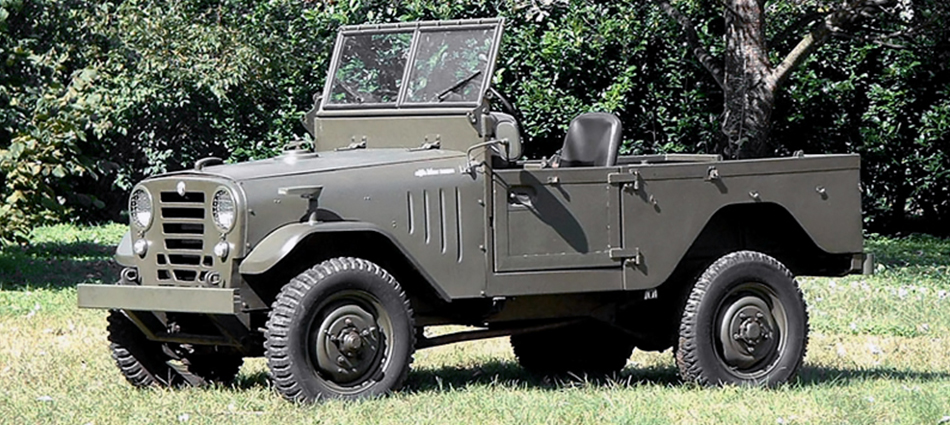 1900M 'Matta'
There's one more room too. This contains, alongside a very well kept 1980s Fiat Ducato, a stunning charcoal 75 limited edition complete with Speedline wheels and Recaro interior, and one of my personal favourites of the collection, a Giulia Super in a fantastic period 1960s pale blue colour, again in original condition down to the engine bay stickers.
"That's all now", Giancarlo tells us. It's certainly enough. It was an amazing collection, and it was heartening after this morning to see that there is still plenty of love left for the Alfa Romeo marque in Milano. As Giancarlo drives us back to the train station in his Panda, I can't help but think that the lovers, us with the virus, have been betrayed by Alfa management for year upon year, to the point of it having forced it to the underground, where the Alfisti, rather than the company itself, have become custodians of the true spirit of Alfa Romeo. Yet although we are naturally wary about being disappointed yet again by future Alfa Romeos, the 4C seems like a glimmer of hope. Every Alfisti I have spoken to here has told me the same thing as Enrico. "Marchionne cares about money, not cars, and the current Alfas are just Fiat's…but the 4C…that's different, that's ok…"
4C
We're late for dinner and we are drenched from the rain that has arrived, but my experience at the shop, meeting Giancarlo and seeing his collection made me remember why I love Alfa Romeos so much. It's been a special day and one I won't forget in a hurry. Now, to find the money for the life size 4C…