When Citroën pulled the covers off the C-Cactus show car at the 2007 Frankfurt Motor Show, it seemed that, while interesting, it was destined to eventually become another forgotten concept. Instead, it was the catalyst that led to arguably one of the most interesting (and polarising) production cars of recent times.
It was this concept that debuted the Cactus theme to the public – a theme of efficiency and pragmatic simplification to reduce weight and drive down the cost of both manufacture and maintenance. The hood and front guards were all one piece, with just an access panel for servicing below the windscreen. The front and rear bumpers were interchangeable with one another. The windows had a simple sliding mechanism, permitting the door panels to be made from only two parts. The seats too were assembled from only two pieces. Boldly, the dashboard was all but gone as well, replaced by controls on the centre console and steering wheel.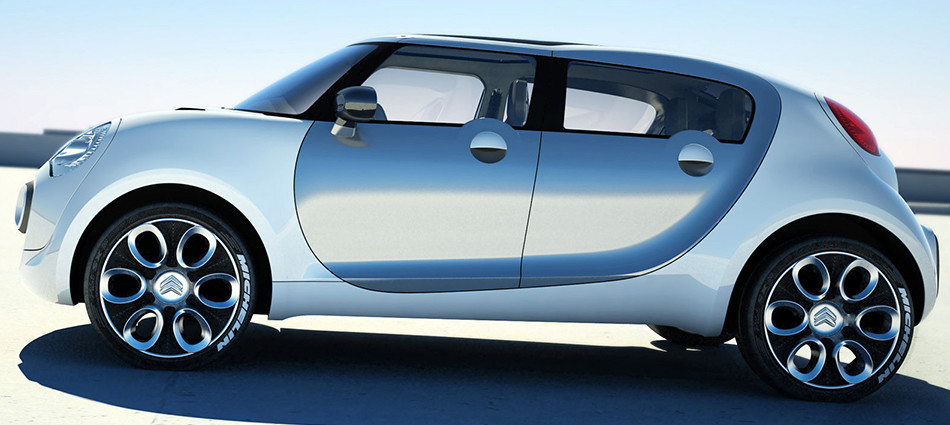 Doors were rust treated but not painted to simplify production and recycling processes.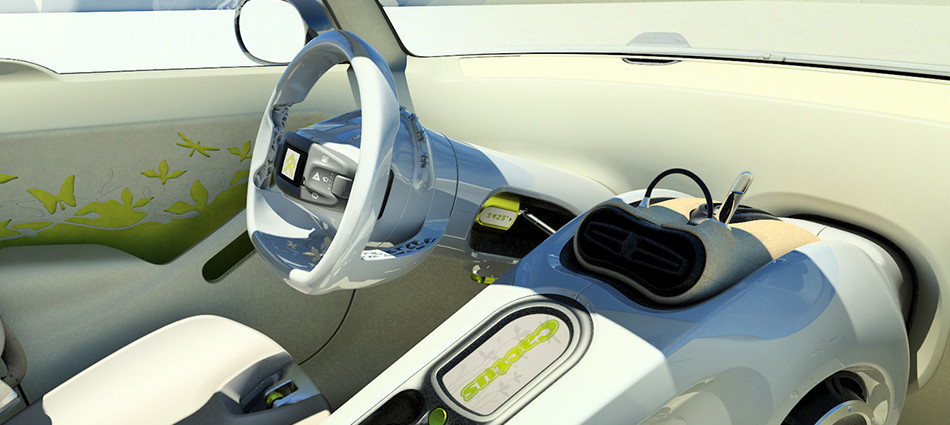 Interior was simplified to the extent it didn't have a traditional dashboard. Controls were instead moved to the centre console and steering wheel.
In 2008, Citroën announced that the C-Cactus concept would be further developed. To the public, this would continue quietly in the background for years, but behind the scenes the company was hard at work experimenting. It developed a number of research cars that were trialed in customer clinics and benchmarked against rivals. The first car was presented in 2009. Retaining the original concept's C-segment hatch body type (as opposed to the eventual C4 Cactus production car's compact SUV format), it was the debut of a distinctive feature – the Airbump – air filled protective panels that not only make a distinctive feature but protect the car on brutal European inner city roads from small impacts such as parking scrapes and shopping trolley dings.

First Study marked first appearance of Airbump
The second car, from 2010, was a large refinement. The car became more upright, more SUV like, and much cleaner. Many features that eventually made it to the production car were seen for the first time here, such as the floating roof and split headlamp graphics.
Second study took a form much closer to final production version. Note doorhandles hidden in the Airbump cladding.
It was not a big leap from the 2010 proposal to the Cactus Concept which made its debut in 2013 at the Frankfurt Motor Show, but compared with the C-Cactus of 2007 there seemed to be little else than the name in common. 'Cactus' however continued to represent an ethos of simplification, light weight and pragmatism, and the rugged, logical yet characterful concept had a simple charm that reminded people of some adored Citroens of days gone by, such as the 2CV and Mehari.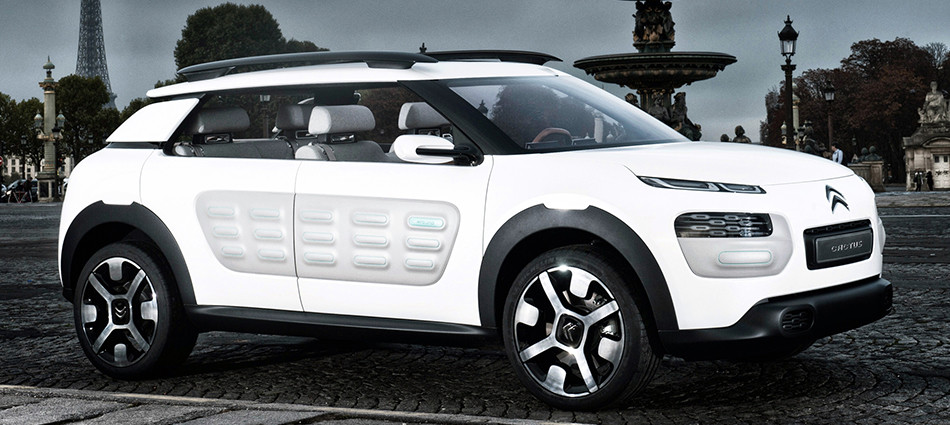 Cactus Concept looked futuristic but turned out to be a straight preview of the production car.
Other than the addition of side glass and some small detail changes, the production C4 Cactus appeared nearly identical to the previous year's concept when it broke cover in early 2014, polarising Airbumps and full width bench style front seat included. Its bold and simple style put the car's distinctive features centre stage in a playful and confident way – refreshing in a segment full of over-styled or generic (or both!) competitors. This boldness was of course polarising, some finding the flavours a bit too strong and the Airbump system gimmicky, but Citroën anticipated this and overall sales nevertheless exceeded expectations.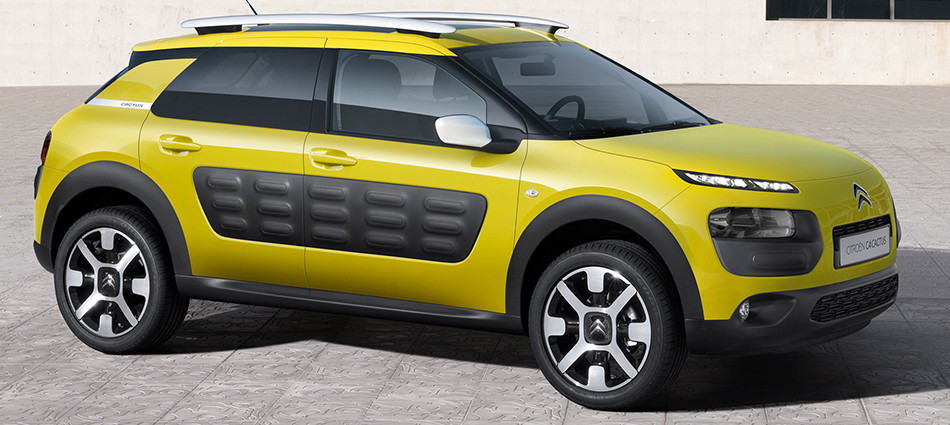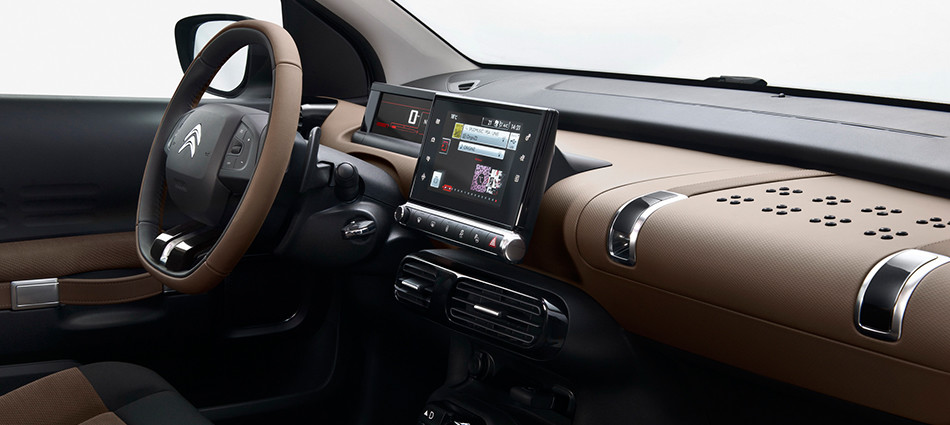 Interior carried over almost unchanged from Cactus Concept, features simple dash and large glovebox due to the relocation of passenger airbag to the roof
The ethos was intact too – clever weight saving features such as an aluminium bonnet, simplified interior and pop-out rear windows (which, according to Citroën, save 11kg over power windows) mean that some variants of the C4 Cactus weigh in at under 1000kg – almost unbelievably light for its market segment. This lightness brings with it a whole range of benefits from improved performance and fuel economy to reduced running costs through reduced stresses on components such as tyres and brakes.
In an industry where design, engineering, marketing and finance sometimes don't collaborate as well as they should – leading to compromised, middle of the road cars that are uninteresting both to look at and under the skin, the C4 Cactus is the result of focused research on a theme by all parties. It refreshingly demonstrates the benefits of this type of close collaboration, clear direction, and a bit of bravery in product development and, for Citroën, is a welcome return to form as makers of quirky, characterful and innovative cars for the masses.
by Andrew Marshall
Photos of the clinic studies are from this article at L'Argus (in French). There are plenty more as well so it is worth a look.