Which car features a rear mounted air cooled engine with overhead camshafts and a dry sump, in a chassis featuring rear swing axles and bodywork with an exceptionally low drag coefficient? The obvious answer to this question would wear a Porsche badge, but as early as 1933 there was a car available that combined these innovative features with glorious art deco bodywork. The Czechoslovakian Tatra T77, a project led by Hans Ledwinka, was one of the first production cars to feature aerodynamic streamlining, and would go on to prove to be a source of great influence and great controversy
Tatra wasn't a new company at the time. Indeed its roots went well back into the 1800s as a horse drawn carriage manufacturer, and the firm, then called Nesselsdorfer Wagenbau-Fabriks-Gesellschaft (NW), produced its first car – the NW Präsident, in 1897. In 1919, NW adopted the Tatra name for its passenger car range, and models such as the Tatra T11 which debuted in 1921 as well as the Tatra T12 which succeeded it in 1926 became successful products for the marque, relatively compact for their era and with a reputation for ruggedness. Designed by the Austrian Ledwinka – Tatra's chief design engineer, the T11 and T12 featured two cylinder boxer engines, with air cooling to make the design simpler, easier to package and more tolerant of the extreme temperatures in Eastern Europe. These were installed into a tubular backbone chassis with independent trailing arm rear suspension. The T11 and 12 and their larger contemporaries the mid-sized T30, T52, T54 and T75 and the luxury T17 and T80 would offer strong hints at the innovative future that lay ahead for Tatra.
Yet while the T12 was innovative for its time, further advancement was occurring in Tatra's facilities. Former Zeppelin designer Paul Jaray had been applying some of the aerodynamic principles he knew to cars, and Tatra had licensed this technology. Hans Ledwinka and his colleague Erich Übelacker meanwhile believed that there were strong advantages to be gained by moving the engine to the rear of Tatra cars. The lack of a driveshaft running front to rear would reduce drivetrain losses and remove the need for a central tunnel, permitting a flat floor in the occupant space – a big advantage for packaging. Noise levels at high speeds would be decreased for passengers if the engine was following behind them, and the shape of the vehicle could be changed to feature a short nose and long tail – consistent with Jaray's aerodynamic principles. The outcome of this research would be the Tatra V570 prototypes, shown in two iterations – a basic early prototype in 1931 and a much more finished proposal in 1933. Retaining the backbone layout and flat air cooled engine of the T12, the V570 would become one of the first examples of streamlining being applied to a road car.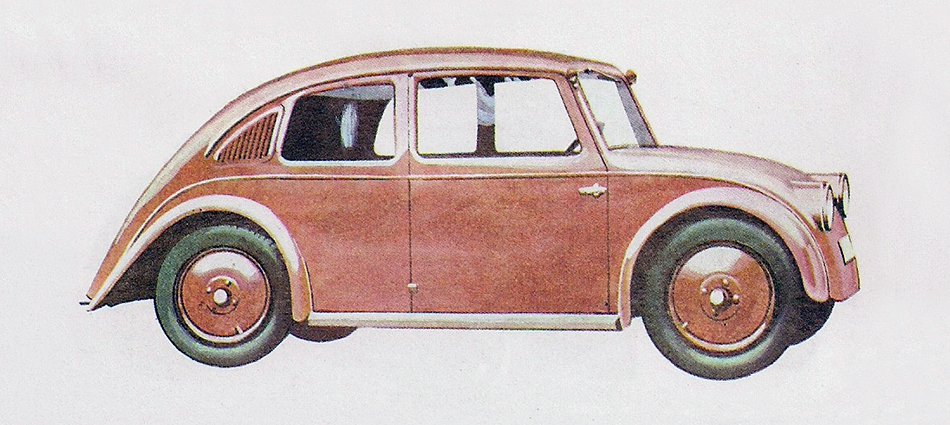 V570 was radical at the time, somewhat recognisable today.

Although convinced of the benefits of this radical layout, Tatra management decided that these principles would be best applied to a limited production luxury car first. This shift in focus was the start of a project that culminated with the launch of the flat eight powered T77 to an impressed audience at the 1934 Prague motor show. Marketed by Tatra as 'the car of the future', it wasn't just the public who were stunned – media reviews were very positive and some important public figures were also won over. One of the most notable of these fans was Adolf Hitler, himself keen to develop a vehicle that would make the dream of owning an automobile more accessible to German citizens and be suitable for Germany's new road infrastructure. Hitler was a fan of Ledwinka, and is known to have dined with him on a number of occasions. Ferdinand Porsche was also inspired by Ledwinka's work – that the T77 and in particular V570 had influenced Porsche's design for the Volkswagen Beetle is well known and undeniable and this caused Tatra to take legal action against Volkswagen, although this matter came to an end in 1938 when Germany invaded Czechoslovakia.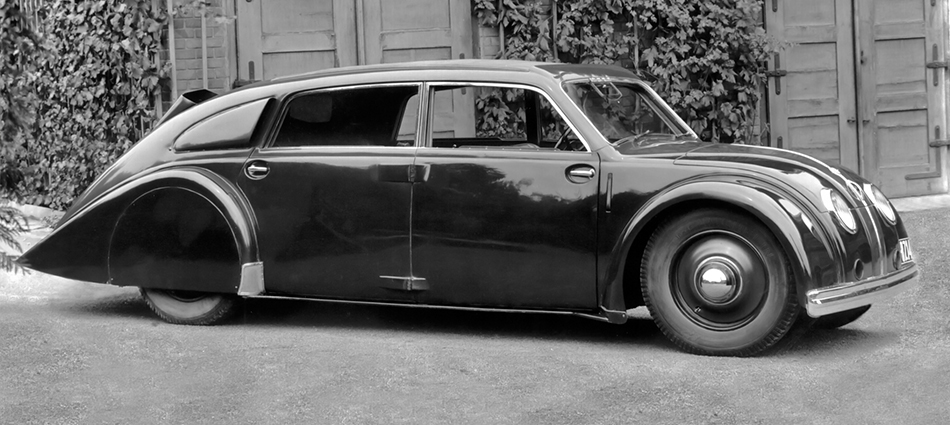 T77 was luxurious and futuristic
By that time, Tatra had taken the lessons it had learned from the T77 and evolved them into the more refined T87, and it had also launched the smaller, simpler, flat four powered T97.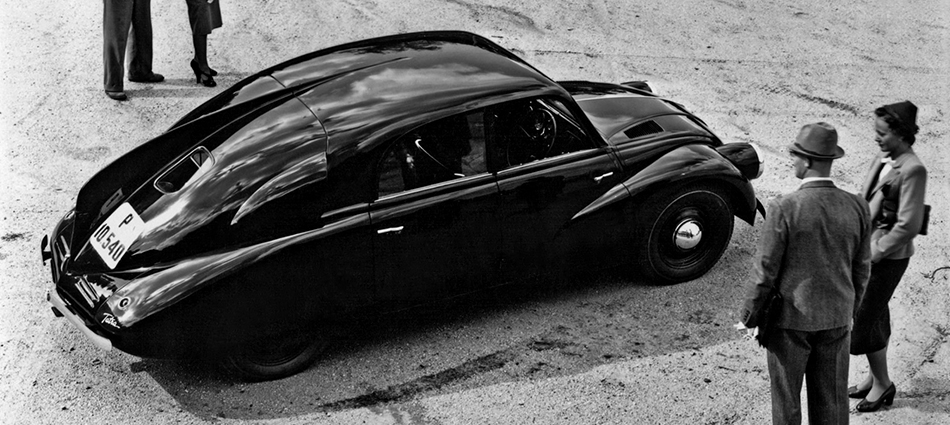 T97 put the T77/T87's innovation into a smaller package
After World War II, production of the T87 resumed but production of the T97 never recommenced after it was halted by the Nazis because of its similarities to the Volkswagen. Hans Ledwinka was accused of being involved with the German occupation of Czechoslovakia and was imprisoned for 5 years. He never returned to work for Tatra, which had been nationalised in 1945. Nevertheless, the principles applied in his time as chief designer there were continued with the first post-war Tatra car – the 600 Tatraplan, which entered production in 1948 – the same year Czechoslovakia commenced its era of communist rule.
By now, Tatra's passenger cars had forged a reputation for being refined, high tech and luxurious but despite this, Tatraplan production only lasted until 1952, when the government ceased production following an arrangement to source its luxury cars from the USSR. Yet problems with delivery times and quality with these vehicles though soon led the Czech government to order a new luxury Tatra for the use of industry executives, diplomats and party elite. Deliveries of this new model, the 603, commenced in 1956, although with the car never officially being on public sale, few were sold new into private hands.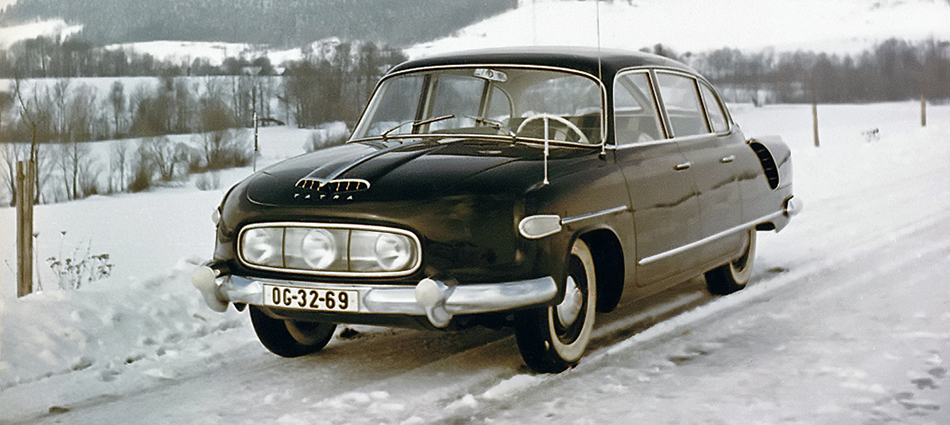 603 remained in production for around 2 decades, yet only 20,000 or so were built in this time.
Constrained by Czechoslovakia's communist government imposing restrictions such as production limits, a lack of ability to undertake international sales activity, and losing touch with the technological advancement occurring in Western European and North American cars from its location behind the Iron Curtain, Tatra faded from the consciousness of Western consumers. Development continued however and the 603 underwent a number of updates that saw it remain in production until 1975, when the last of the 20,000 or so units produced rolled off the production line, ending the run of Tatra cars built to Paul Jaray's streamlining principles that had continued since the 1930s.
However the 603 was considered anachronistic by the end of its life, and indeed Tatra had been working on its successor for quite some time. The 613 was styled by Italian design firm Vignale and while it retained the rear mounted V8, air cooled layout of the 603 (albeit now with double overhead camshafts), it appeared much more modern than its predecessor. Like the 603, the 613 was intended for the use of executives and officials rather than private sale and as such emphasis was placed on space, comfort and luxury.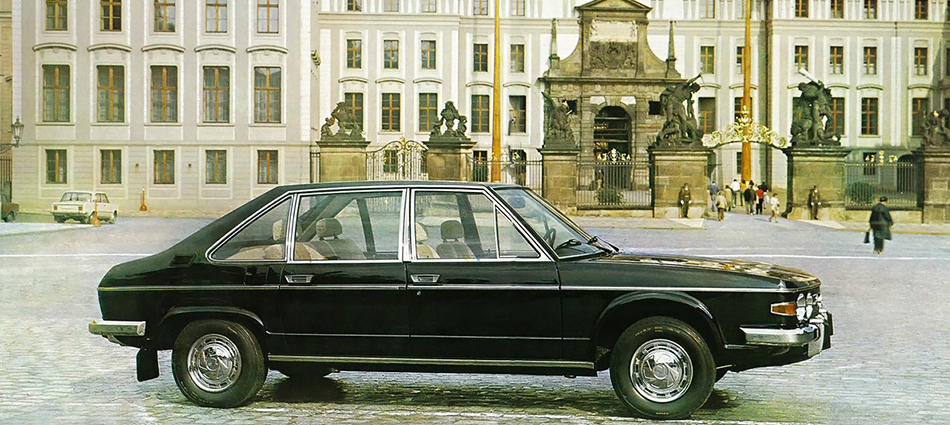 Vignale styled 613 looked much more modern than its 603 predecessor
The era of 613 production would see Tatra through to the end Communism in Czechoslovakia, when the company once again had an opportunity to compete for sales in the global car market. Throughout its life it underwent continuous updates and revisions featuring styling updates, the addition of fuel injection and the offering of a long wheelbase option alongside a huge array of luxury accessories. Hoping to claim some international sales, in 1993 Tatra launched the fifth and final iteration of the 613, the 613-5 at the Frankfurt motor show and even produced a number of right hand drive prototypes of the model. In this period Tatra was also involved with the development of the MTX Tatra V8 – a supercar featuring a 225kw, 3.9 litre version of the air cooled V8 developed in cooperation with niche Czech car maker MTX. This made its debut in 1991, although only a handful of cars were ever produced (one however did rise to relevance in western culture by appearing in a Kanye West film clip in 2010). For 1996, the 613 was updated yet again and became the 700, which featured a restyling by former SAAB designer Geoff Wardle as well as the the option of a 2 door coupe body style and a new 4.4 litre V8, available alongside the 3.5 carried over from the 613.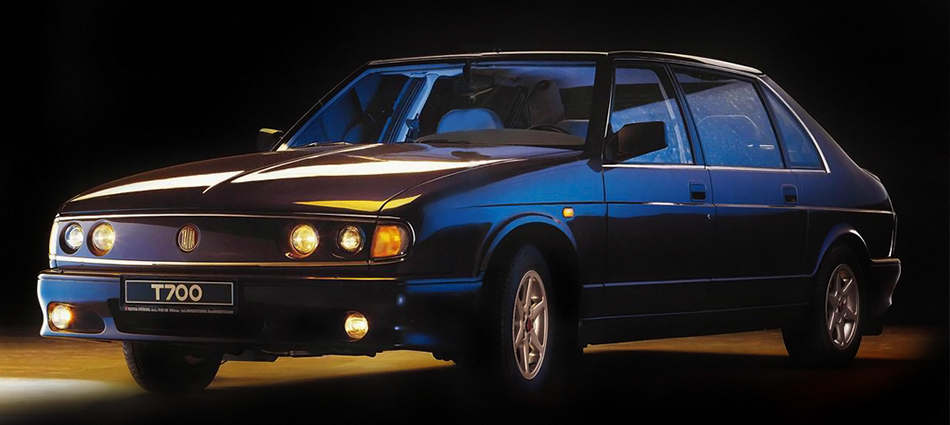 T700 was Tatra's car swansong, although the company still makes commercial vehicles
Despite all this work, the 700 would never sell in notable numbers, and in 1998 production ceased, ending over a century of passenger car production for the Tatra firm. It was a credit to Hans Ledwinka and his pre-war colleagues that the roots of all Tatra road cars until that point were directly traceable to their innovative designs from the 1920s and 30s. While many of its early competitors from Western Europe such as Daimler-Benz, Volkswagen and Citroën continue to be market leaders today, Tatra became a victim of circumstance and definitely affected by political events outside of its control, and its car making operations would wind up as a case of would could have been – relegated to a curiosity amongst enthusiasts.
by Andrew Marshall