From the 500 Topolino to the Nuova 500 that succeeded it in the 1950s, and the boxy and eager Cinquecento Sporting of the 1990s, the Fiat 500 name has been attached to a great variety of robust, practical and characterful city cars over the years. The current Panda based 500 has been a massive success for Fiat, which has overall been rather inconsistent in the last few years. It makes sense that Fiat wants to capitalise on this success by expanding the range, but it does feel a touch strange to this author to find the 500 badge attached to the 500L, which is not a city car but an MPV.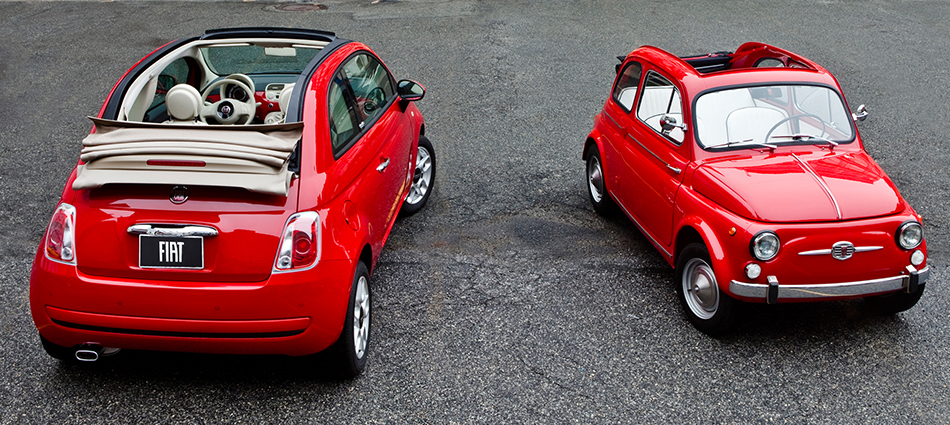 the Fiat 500 nameplate has been about small cars until now
It's not as though Fiat doesn't have a wonderful heritage when it comes to MPVs – indeed the 600 Multipla was one of the first examples of the genre, while the 1990s Multipla is surely one of the most innovative and polarising production car designs in recent history, however at first glance the Fiat 500L looks like a blobby, overweight parody of the 500 hatch, a cynical marketing plot to stretch the nameplate further than really sensible. It looks friendly, sure, but it's more than just a touch ungainly.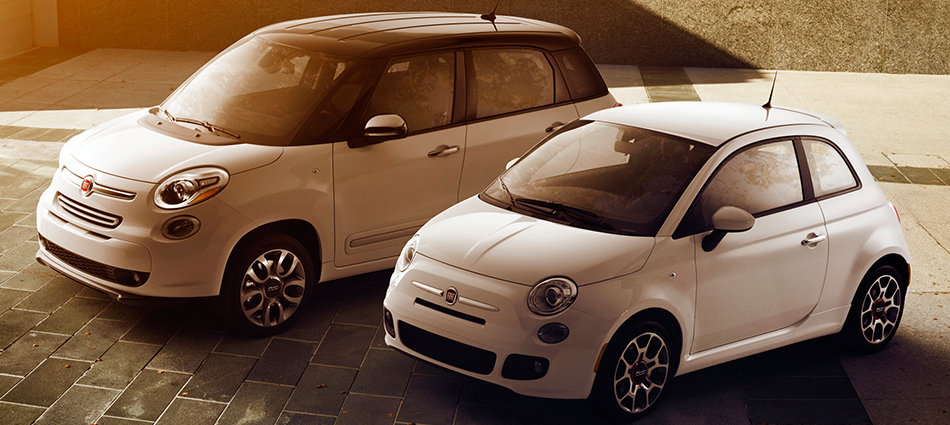 500L is much bigger than 500
Yet although there are some truly baffling design elements to the 500L – for example the car we tested had bizarre writing on the seats ('more colour can speak to the heart in a thousand different ways' – something of a take on Oscar Wilde) – there is very little innovation in the mould of the best Fiat MPVs of yesteryear. It's front engined, front wheel drive, has petrol and diesel engines with modest outputs from the broader Fiat family, and while the interior layout is very practical and functional, there isn't a whole lot that's very innovative about it either.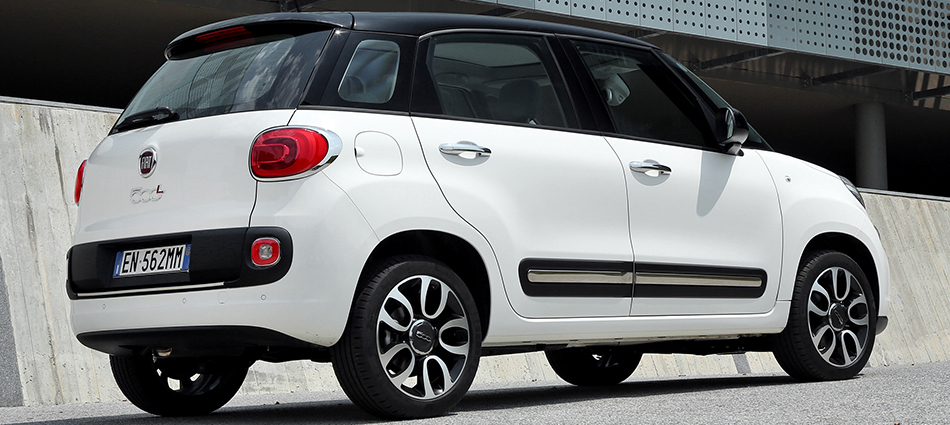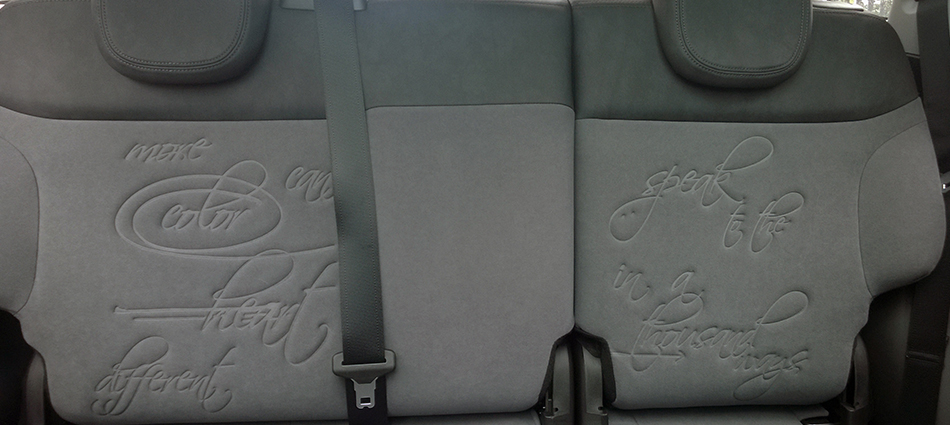 Writing on seats in Lounge trim level is bizarre
However despite this initial scepticism, and putting aside for a second the marketing attempts to link it to the 500 by name, after spending some time with the 500L we found some aspects to really like about it. Outside, there are some nice details – there's just enough jewellery to make the 500L look like a high quality product, and the two tone paint options are nice. And despite contributing to its frumpiness, the 500Ls small wheels and long overhangs refreshingly avoid any sporting pretence completely, which is entirely appropriate for a vehicle like this. Outside, it's toy-like. If it were an animal, it would be big, dumb and friendly – not exactly attractive, but still endearing, maybe a cartoon hippo.
Inside is where the 500L's merits are most obvious. It's truly spacious, with plenty of head and legroom, and cubby spaces galore to store the sort of oddments people with families tend to carry in their cars. The seating arrangement was fairly versatile too – the rear seats can be moved fore and aft as well as folding and tumbling to create a generous cargo area. The car we tested was in Lounge specification, which in the UK at least features a full length glass roof, and this, in conjunction with the large windows and split A pillar, lent a fantastically airy feel to the cabin. It's a good example of functional Italian, much in the same way the Panda is – an aspect the culture is very good at despite being generally more celebrated for luxury goods. The uConnect infotainment system which can now be found in a growing number of Fiat Chrysler products functioned reasonably well – while not industry leading in size, resolution or functionality, it paired successfully and with relative ease to an iPhone and a Windows Phone, and overall we found the system fairly easy to navigate. It did feature the typical touchscreen drawback of being a little bit difficult to manipulate while on the move, asking for a little too much attention to be diverted from the road, but this is definitely not a problem isolated to this car. One feature I particularly enjoyed was the uConnect system's eco:drive function, which rates the efficiency of your driving across 4 different categories – acceleration, deceleration, gear shifting and speed, and offers the opportunity to download this information onto a USB drive after your journey for further analysis and coaching on ways to improve economy through driving style.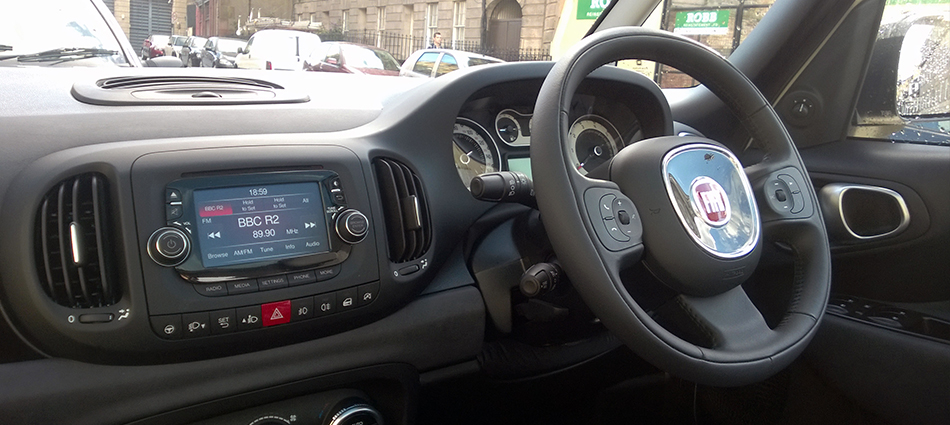 uConnect worked well enough
And although according to eco:drive I wasn't exactly the greenest driver, if the trip computer is accurate we did manage a pretty impressive 4.8L/100km from the test car's 1.6 litre, 105hp MultiJet diesel engine throughout our use of the car which included a mix of milling about in towns and a trip from Edinburgh to Glasgow and back.
The engine, while not by any means making the 500L a rocket ship, provided perfectly adequate and quite flexible performance while being quite perky and rev happy for a diesel. It was backed up by decent handling and ride, with confident road manners and steering appropriate for a car of this type, although comfort on the motorway was hampered somewhat by a noticeable amount of wind noise. Overall the 500L drove quite well for a vehicle of its type, and it was a comfortable and relaxing place to spend time.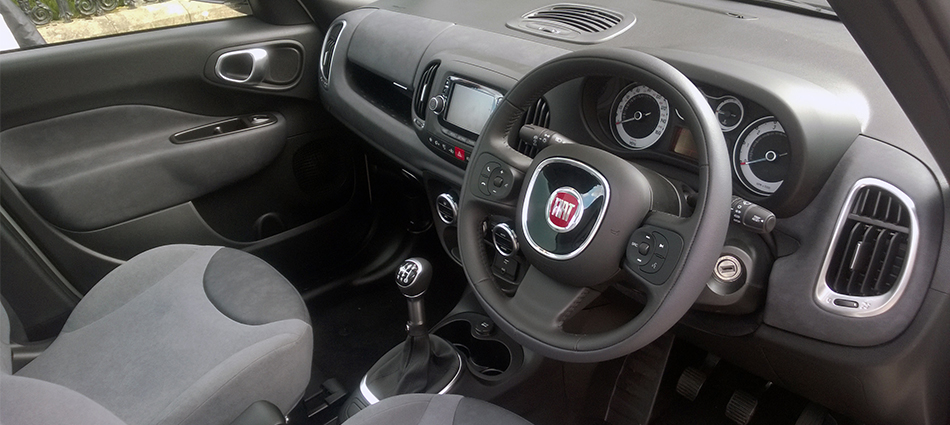 Cabin feels big, friendly and airy – versatile and a nice place to be
For me, both the 500L's strengths and weaknesses lie in its intent. It's a family vehicle, designed with people whose lives have maybe outgrown the small 500. This means it's big and happy inside and out – in some ways it feels like a big toy, a caricature – which make it feel both a little bit fun and entirely appropriate for family life. Whether or not this was deliberate or a happy consequence of blowing the 500 up a little bit, it's given the 500L a character that is appealing and definitely child friendly. I am torn – I definitely warmed to the 500L as a car during my time with it, yet I still can't quite justify its use of the 500 name. Maybe if they'd called it the 600 Multipla, or something different entirely, I'd be more enthusiastic about it. As a car though, it's quite practical and endearing – and when considered in the context of its often bland small MPV rivals it would make a great option for young families who want to combine practicality and character on a budget.
by Andrew Marshall