It's amazing how marketing and press can alter the way history is perceived. Some of the older car brands still trade in some ways off their pre-war successes, and many still make a point of making sure we remember racing success achieved through the 60s and 70s. But there are lots of amazing stories one will miss if one's diet of motoring history consists of Gran Turismo and press releases. It always, for example, stuns me how few people know of or remember Matra. In the 1960s and 70s, the French marque won the Formula 1 World Championship, achieved a hat-trick of victories at Le Mans and won the World Championship for Makes back to back – a formidable record of success with top drivers and innovative cars.
Even more underappreciated these days however, are Matra's road cars, which, despite mixed sales success in their day were every bit as innovative as their racing counterparts and offer some fascinating design and packaging solutions that are every bit as relevant today as they were at their first unveilings.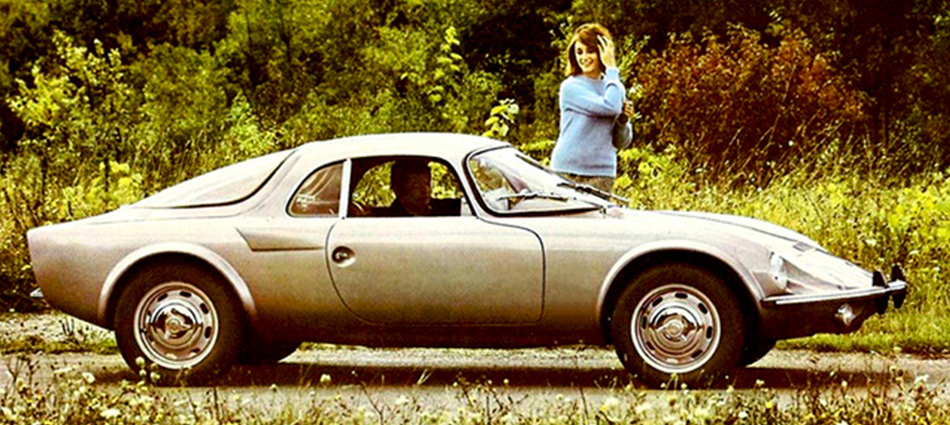 Matra Djet
Matra entered road car production in 1965, when it acquired the company Automobiles Rene Bonnet. Rene Bonnet's Djet sports car was given an update by designer Philippe Guédon and became the Matra Djet or Matra Jet – the first road going Matra.  Production only lasted until 1967 however, when Matra launched its first original design, the M530, once again designed by Guédon. An innovative machine, the M530 was a 2+2 sports car with a mid mounted engine and a targa roof. It also featured an aerodynamic body made from glass reinforced polyester and even pop up headlamps – uncommon in 1967. Just under 10,000 M530s had been produced in various guises when in 1973 the it was replaced by the Bagheera.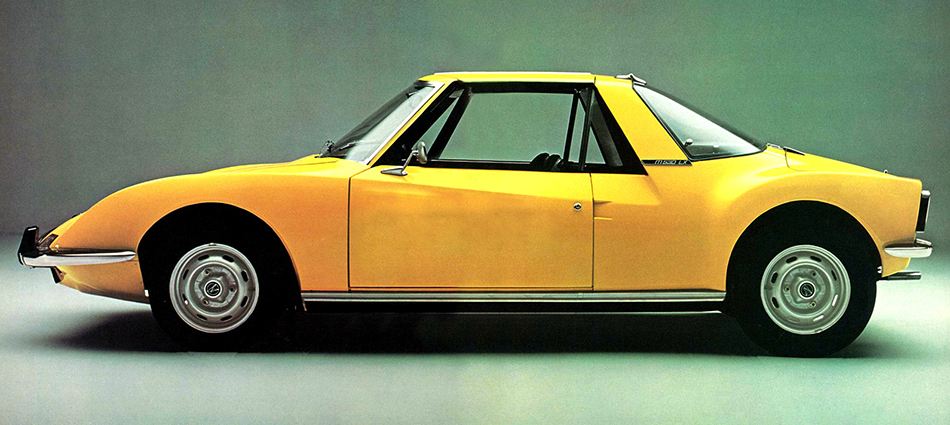 Matra M530
If the Matra M530 seemed innovative, its successor the Bagheera was another step forward again. Thanks to an engineering and distribution tie-up with car manufacturer Simca, the Bagheera featured a number of Simca components including engines but was mid-engined in layout with an interesting seating arrangement – one row of three bucket seats. The body, styled by Antonis Volanis, was made of glass reinforced polyester and the chassis was steel. Although performance was good and reviews were favourable, reliability issues, particularly rust, were chronic to many of the 47,802 Bagheeras built until 1980.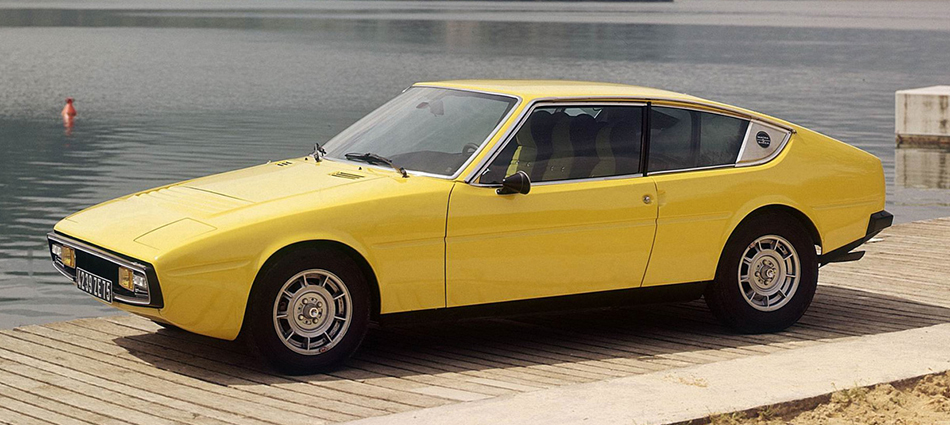 Matra Bagheera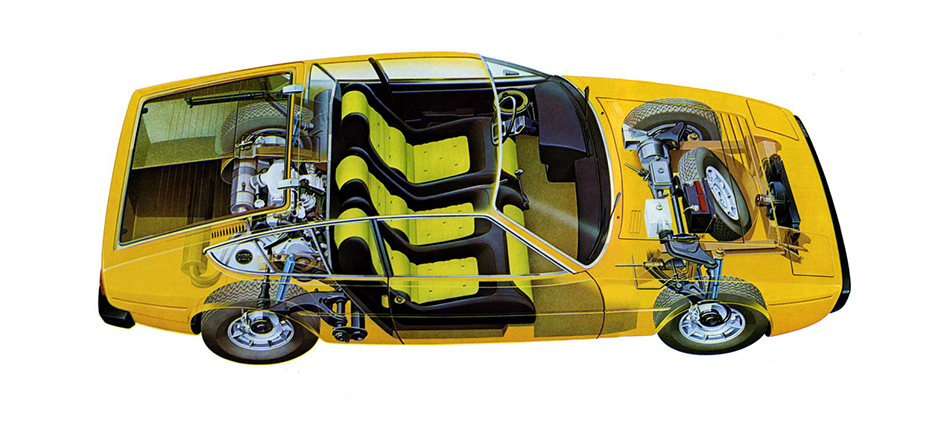 Matra Bagheera Cutaway
In 1977, Matra launched its first non-sports car, the Rancho. Again designed by Volanis and utilising a lot of Simca components, the Rancho's package could be from 2014: An off-road style family vehicle with increased ground clearance and rugged styling, a large and practical interior yet despite its rugged style, only suitable for mild off-road use due to its front-wheel drive layout. Although the media at the time questioned why one would build such a vehicle without four-wheel-drive, the Rancho gained something of a cult following for its practicality and cleverness and was something of a sales success with over 56,000 produced. Remember, this design predated the Land Rover Discovery by well over a decade.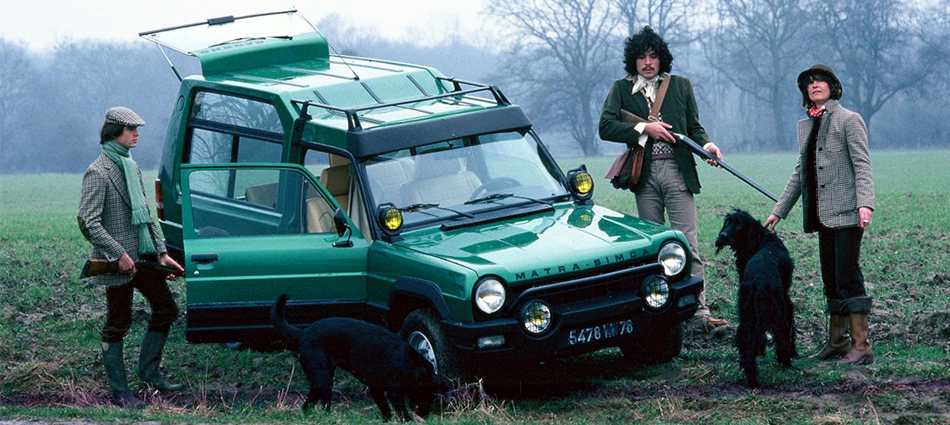 Matra Rancho
The success of the Rancho led to the development commencing at Matra and Simca for its family car successor. Fergus Pollock from Chrysler Europe Antonis Volanis worked on the design of the new vehicle. It was during this time that Chrysler Europe collapsed, its remains being sold to Peugeot and its products continuing under the Talbot moniker. The design of this new model, however, stayed with Matra.
Meanwhile, Matra had learnt from the Bagheera's problems and had set about developing its replacement, the 1980 Murena. Although it retained the Bagheera's mid-engined three seat layout and hatchback coupe body shape, the Murena featured new, more modern styling by Volanis, a fully galvanised chassis to counteract the rust issues of its predecessor, and larger engines promising improved performance.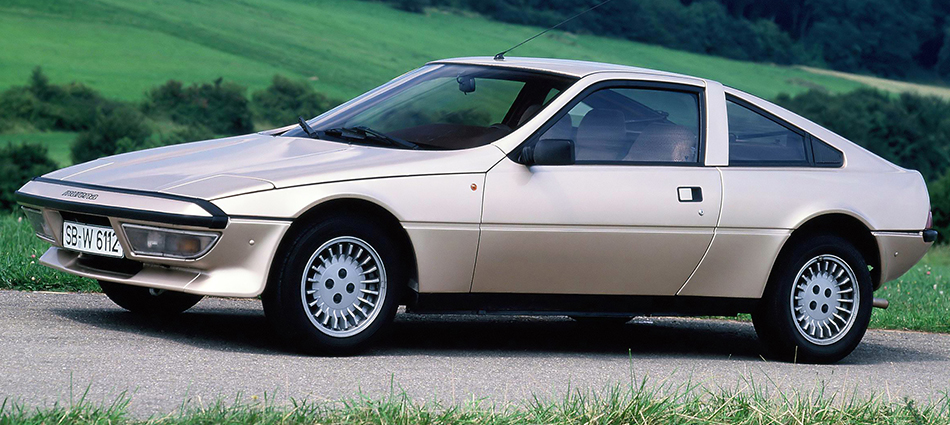 Matra Murena
But the Murena's production cycle would be relatively short. The new family car was intended to be sold as a Talbot, but when Matra pitched the concept to its new owners Peugeot, they decided they would not take the risk nor spend the money to fund its development. Not to be defeated, Matra then took their design to Renault who green-lighted the new vehicle which hit the showrooms in 1984 as the Renault Espace. Production would be handled by Matra, which saw the demise of the Murena due to the relatively small production ability of the Matra factory in Romorantin.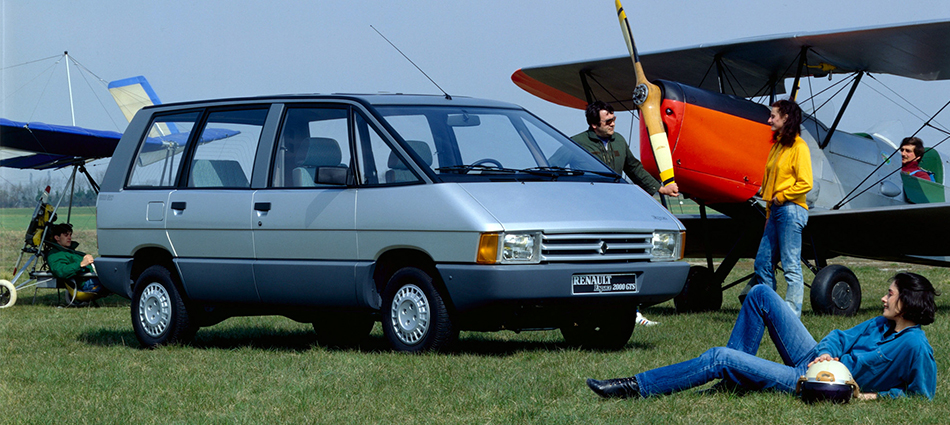 Renault Espace Series 1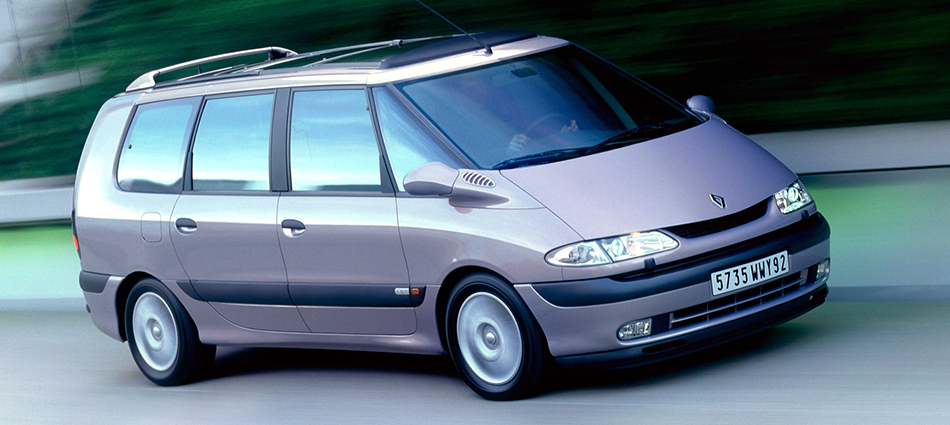 Renault Espace Series 3
Arguably the first modern MPV style vehicle, the Espace had a slow start but became a huge success. Production of the first three generations was handled by Matra at Romorantin and, like Matra's other road cars, the vehicle's steel chassis and glass reinforced polyester remained up to 2003, when production of the fourth generation of the Espace, based on a Laguna platform, was taken in house by Renault. Throughout this period the ties between Matra and Renault became closer and Matra produced other vehicles with Renault including the retractable Zoom concept car and the crazy Espace F1 – an Espace running the drivetrain and suspension from a contemporary Formula 1 car. There was also one other Matra designed and built Renault production car, the Avantime.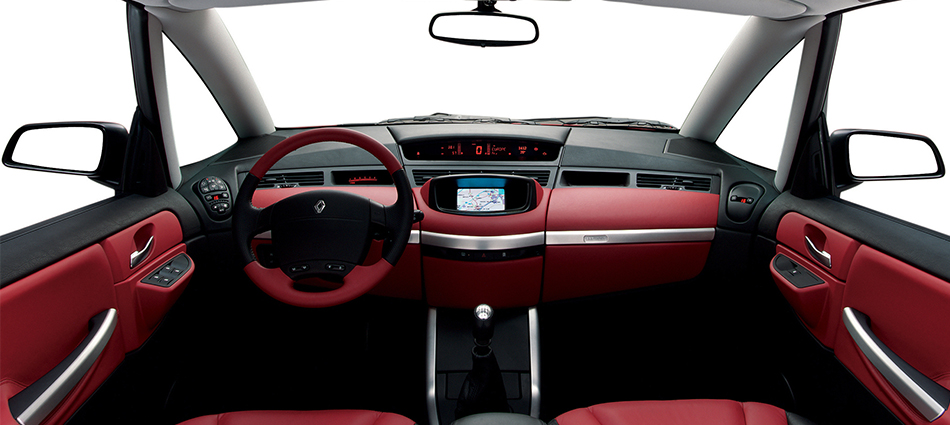 Renault Avantime Interior
Image at top of article: Renault Avantime
Styled by Patrick Le Quement, the Renault Avantime was a curious machine, taking the MPV layout and space of the Espace and combining them with the luxury of a 2 door Gran Turismo. The idea was that people who liked the Espace's driving position and space might want a smaller yet more stylish and luxurious variant of the vehicle if they didn't a full sized family car. Reviews were often positive, but the market was confused and faced with slow sales and two competing flagship vehicles (Renault were also producing the Vel Satis at the time), Renault pulled the plug on the Avantime in 2003 with only 8,557 vehicles produced over two years. With the end of Avantime production and Renault moving production of the 4th series Espace in-house, Matra closed its Romorantin factory in 2003, signalling the end, so far at least, of the interesting story of Matra's road cars.
by Andrew Marshall